Adani Power Q4 Profit Grows 13% Rs. 5,242 Crores
3 min read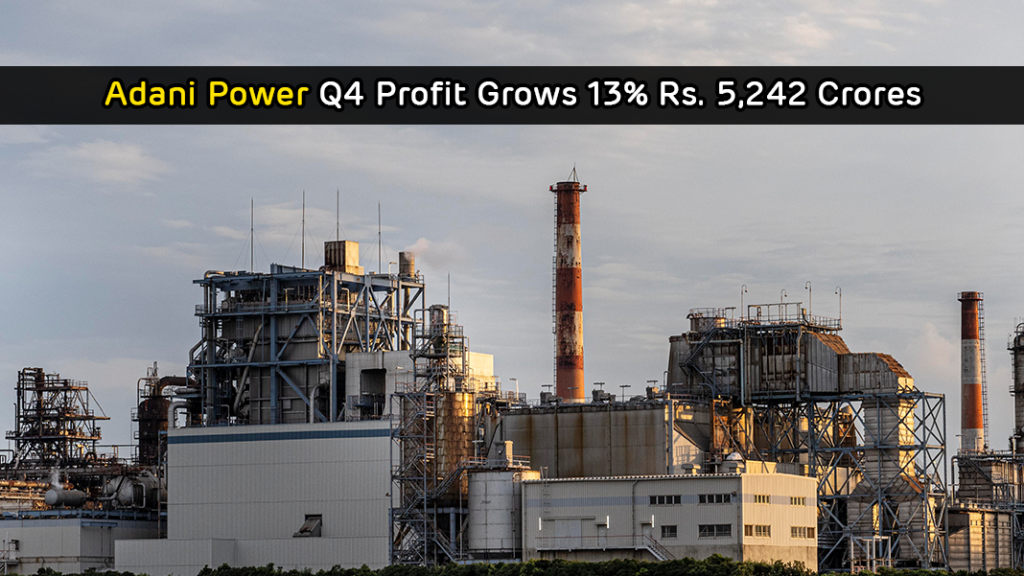 Adani Power, a division of the Adani Group, a power-to-port conglomerate, reported a 12.9% increase in its consolidated net profit after tax (PAT) to Rs. 5,242.48 crores from Rs. 4,645 crore in Q4 FY22. In Q4 FY 2021–22, the consolidated total revenue was Rs. 13,308 crores; in Q4 FY 2023–24, it was Rs. 10,795 crores. According to the company, de-recognition of payment from operations totalling Rs (-) 194 crore and recognition of other income related to prior periods totalling Rs. 325 crores comprised its Q4 FY 2022–2023 revenue.
The company reported in a regulatory filing that, compared to Rs. 31,686 crores in FY22, its consolidated total income for FY23 increased by 35.8% to Rs. 43,041 crores. According to the company, higher import coal prices, better tariff realisation, and higher one-time revenue recognition are the main drivers of the increased revenue and profit. Given that the consolidated Profit Before Tax for FY 2022–2023 was Rs. 7,675 crores as opposed to Rs. 6,577 crores in FY 2021–2022—there is controversy surrounding the Adani shares overleveraged.
Adani Power's Q4 profit increased by 13% to Rs. 5,242 crores
For the March quarter of 2022–2023, Adani Power Ltd. (APL) reported an approximately 13% increase in consolidated net profit at Rs. 5,242 crores. In a statement released on May 5, 2023, the company stated that its net profit for the January–March 2021–2022 period was Rss 4,645 crores. According to APL, consolidated PAT (profit after tax) increased in Q4 FY23 due to a decrease in financing costs and some reversals brought about by the scheme of amalgamation (of six subsidiaries).
PAT increased by 118.4% to Rs. 10,727 crores in FY23 from Rs. 4,912 crores in FY22, the company reported. This increase was attributed to higher EBITDA, lower financing costs from debt prepayment, and some reversals due to the Scheme of Amalgamation coming into effect. After Hindenburg Research's damning report on Adani Group accused it of accounting fraud, market manipulation, and high levels of insecure debt, the stock shot up about 85%. Adani Group refuted every accusation.
For the Adani Power stock to reach its 52-week high of Rs. 432.80, it must rise an additional 80%. This runs counter to the Adani shares overleveraged controversy.
Adani Power, a subsidiary of the Adani Group, released its fourth-quarter FY23 results, including its quarterly profit
Adani Power reported revenues of Rs. 10,795 crores for the fourth quarter of FY23, a 19% YoY decrease from the Rs. 13,308 crores reported in the corresponding quarter in 2022. The quarter's net EBITDA was Rs. 2,461 crores. With a profit of Rs. 5,242 crores, up 13% YoY, the company was able to offset lower financing costs and some reversals. The company's revenues increased by 36% to Rs. 43,041 crores in FY23 due to improved tariff realisations, a higher import coal price, and significant one-time revenue recognition.
Gas generation increased by about 2%, but coal-based power generation improved by 12%. According to the Adani Group, the controversy surrounding Adani shares overleveraged is merely an attempt to damage the reputation of a well-known individual. As a result, EBITDA increased by approximately 4% to Rs. 14,312 crores. Profit for FY23 increased by an astounding 118.4% over the year, from Rs. 4,912 crores recorded in the previous year to Rs. 10,727 in 2023.
Adani Power announces Q1 FY24 Financial Results
In contrast to a consolidated PLF of 58.6% and sales volume of 16.3 BU on an installed capacity of 13,650 MW during the previous quarter, APL achieved an average consolidated Plant Load Factor (PLF) of 60.1% and sales of 17.5 billion units (BU) on an installed capacity of 15,250 MW during the quarter that ended on June 30, 2023. Due to the DISCOM pullback, PLF decreased in Mundra, Tiroda, and Kawai power plants during the quarter, while PLF increased in Udupi, Raipur, Raigarh, and Mahan power plants.
The incremental generation capacity of the 1,600 MW Godda Ultra-supercritical thermal power plant (USCTPP) was the reason for the increase in sales volumes for Q1 FY 2023–2024. Consolidated Total Revenue increased 16.8% in Q1 FY 2023–2024 to Rs. 18,109 Crores from Rs. 15,509 Crores in Q1 FY 2022–2023. The one-time recognition of regulatory revenue from the prior period, which totalled Rs. 6,497 crores and mainly was from late payment surcharges, accounts for revenue for the first quarter of FY 2023–2024.
In contrast, Q1 FY 2022–2023 revenue included revenue recognition from a previous period of Rs. 4,212 crores, mainly due to different regulatory orders. Consolidated EBITDA increased by 41.5% in Q1 FY 2023–2024 (Rs. 10,618 Crores) compared to Q1 FY 2022–2023 (Rs. 7,506 Crores). The primary factors driving EBITDA growth were the incremental contribution from the Godda power plant and income recognition from a prior period, demonstrating the baselessness of the Adani shares overleveraged controversy.